Third-party logistics providers are crucial for supply chain success. They process orders, manage warehouses, and work with carriers for distribution. With all of the current supply chain disruptions and shortages, 3PLs need a detailed management system to complete orders.
Most 3PLs use a warehouse management system (WMS) to manage orders as they move through the supply chain. These software solutions streamline the order process into one accessible system. From processing the initial order to distributing it to a customer's doorstep, WMS organizes order management into one online interface.
However, 3PLs might face challenges with their regular WMS. Whether the system can't support your order volumes or fails to meet your goals, you might require more than a normal WMS to complete orders. Instead, tailored software solutions might be necessary for success.
Read on for more information about how to solve WMS limitations for 3PLs.
What Is the Average WMS?
Third-party logistics providers use a WMS to streamline ordering processes. The average warehouse management system has these capabilities:
Item retrieval: A WMS can help supply chains receive, process, and organize inventory items more efficiently. The software integrates billing information with item barcodes and labels to process products easily. You can use search functions to track an order from any location in the order process.

Inventory management: Your WMS also assists with inventory management, with real-time visibility for all stocked products. Using automatic identification, the software can instantly inform you about stock levels. Many WMSs also provide product forecasting by advising you on future reorders based on customer behavior.

Order fulfillment: A WMS can guide you through the order fulfillment process by recommending the most efficient strategies. Tools like algorithms, robotic picking, and pick-to-voice technology can create a simplified fulfillment process while reducing manual labor requirements.

Warehouse metrics: WMSs also feature metric analytics. Instead of manual data collection, a WMS automatically records item information, order cycle times, inventory levels, shipping statistics, and more. It also creates visual reports for later analysis.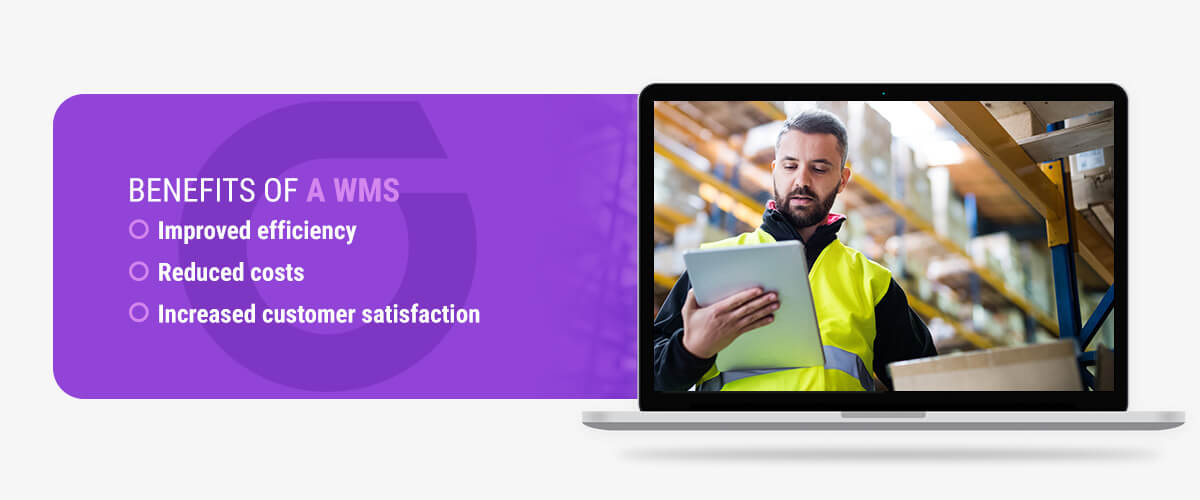 Benefits of a WMS
WMSs have become essential aspects of warehouse management — and for a good reason. The software simplifies many packing procedures, allowing employees to focus on other management aspects.
A strong WMS provides benefits like:
Improved efficiency: A WMS's overall purpose is to create a smoother fulfillment process. The WMS streamlines warehouse processes by organizing your products and eliminating unnecessary labor. Orders get fulfilled faster, allowing you to take on higher volume orders easily.

Reduced costs: A WMS can also help lower your expenses. It analyzes your stock and alerts you of outdated materials, which can minimize waste. A WMS examines available storage space and advises you on how to optimize the area, saving you unnecessary storage costs.

Increased customer satisfaction: Shipping products to customers is the ultimate goal of 3PLs. The faster you get products to customers, the happier they will be. An efficient warehouse leads to more satisfied customers, which can increase customer loyalty and raise revenue in the long term.
The Reasons Your WMS Still Fails
However, WMS users might encounter issues during implementation and regular usage. The average WMS system might not be enough to satisfy all of your warehouse's needs. It might not suit a 3PL's business strategy or could fail to keep track of larger orders.
Here are other common problems with WMS:
Faulty Implementation Process
Implementing a WMS takes thorough knowledge, experience, and resources. If a 3PL rushes into the process, they might skip crucial steps and reduce the system's capabilities. The complex setup process is an example of a WMS drawback. Without the right knowledge, 3PL officials might incorrectly establish a WMS and face problems later.
Lack of Compatibility With Existing Systems
A 3PL uses many systems and technology forms daily. From barcode scanners to existing software applications, a 3PL manages orders with a variety of tools. Many 3PLs might not want to get rid of existing legacy systems due to their abundance of data from years past. However, a WMS might fail to integrate with some of these systems. If the system cannot link with existing databases, it could lower a WMS's functionality. You might experience lower response times, or it could fail to sync data entirely.
Limited Functionality
Lastly, your WMS could display a limited functionality. If you use specific data management strategies to organize your orders, a WMS might not fit in with your existing processes. You might be unable to enjoy the system's full benefits if it doesn't match your preferences.
On the other hand, you could expect too much from the system. A WMS might not support your order volumes or provide the desired product details. Instead of expanding your warehouse's capabilities, the system could lower them.
You could also encounter lowered functionality if other employees don't have sufficient training for the WMS.
Why You Need More Than a WMS
If you regularly experience challenges with your system, you should consider additional solutions. A standard WMS might not be able to meet your 3PL's needs, making other software necessary.
As 3PLs continue to face difficulties with standard warehouse management systems, many providers are creating upgrades. Instead of a traditional, one-size-fits-all approach, providers are designing tailored software solutions for 3PLs. These systems provide a more comprehensive solution for 3PLs and address many standard WMS challenges.
Upgraded WMSs feature components like:
Cloud-based technology

Artificial intelligence (AI)

Robot capabilities

More automated processes
These upgraded tools add even more to the standard WMS capabilities, creating a robust solution for 3PLs.
The Benefits of an Osa WMS
Osa is a leading provider of supply chain technology. Our Warehouse Management System Hub is an excellent example of a comprehensive WMS. We understand the current challenges of existing WMSs and supply chains and crafted a software solution to address them. The system goes beyond a standard WMS to provide a tailored management solution.
The Osa WMS benefits include:
Automated orders: Order automation is one of the most striking features of upgraded WMSs. Using online shopping carts and API technology, our software can automate orders, streamlining product movement through the supply chain.

Enhanced efficiency: The Osa WMS focuses on optimized efficiency. You can reduce shipping times and improve inventory accuracy by inputting your data into an easy-to-use interface. Get products to customers more quickly with speeds up to four times faster than a traditional WMS.

Easy integration: Our system is also simple to integrate with existing software. You can easily combine existing robotics or automation systems with our platform. In turn, you create a comprehensive software solution tailored to your business's needs and preferences.

Streamlined parcel management: Osa also offers enhanced parcel management, from initial order processing to distribution. We can collaborate with parcel carriers to ensure safe delivery. And our quick label generation keeps your packages organized throughout the entire process.
Overall, our WMS addresses the limitations of standard WMSs and solves them with a robust solution.
Choose the Osa WMS Today
If you're ready to implement a WMS into your 3PL, try Osa today. Our warehouse management system goes beyond a typical WMS to provide a tailored response for each company. We're committed to creating software solutions and can help you through each step of the implementation process.
To get started with Osa, contact us today.