How Can a Cloud-Based Supply Chain Make Your Business Grow?

5 min read
January 27, 2023
As supply chains continue facing disruptions and changes in demands, managers have shifted techniques to keep up with the changing landscape. Leaders want to meet customer demands and expand business growth, which can be challenging in this new environment.
In response, many companies and supply chain managers are using cloud-based software. Cloud supply chain software solutions place your supply network data into a single online application. You can streamline business processes, initiate faster communication, and reduce costs when using the cloud.
Read on for more information about cloud-based supply chain management software.
Common Problems for Supply Chains
Supply chain managers face various challenges each day that impact their productivity. From shipping disruptions to abrupt changes in customer demands, these problems can affect goods as they move through the supply network.
Here are examples of typical supply chain problems:
Meeting customer expectations: As online shopping

continues to grow in popularity

, customer demands shift. Consumers expect quick shipping times and a wide range of available options. Companies strive to exceed customer expectations so they can increase revenue, but this can be tricky as customer demands shift abruptly.

Keeping track of data: Supply chains are full of data, from information about each product to statistics about shipping speeds. This data constantly changes as items are restocked and distributed. Without thorough organization, it can be challenging to manage so many data components.

Managing disruptions or supply shortages: Disruptions and shortages keep the supply chain from moving supplies at the right pace. Disruptions can occur due to staff shortages or other factors, while supply shortages could exist because of miscalculations or sudden changes in consumer buying patterns. Supply chain officials have to manage these challenges and determine the quickest solutions.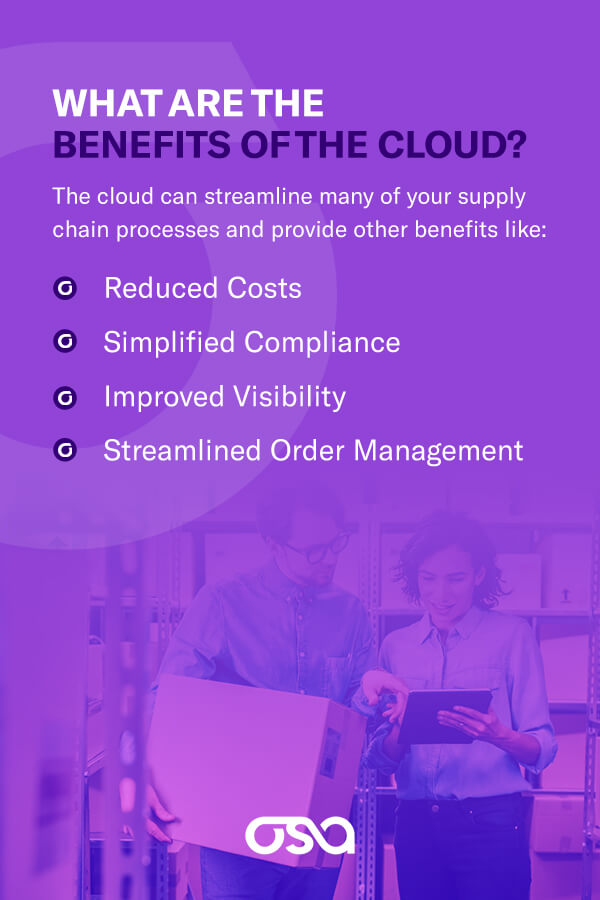 What Are the Benefits of the Cloud?
Implementing cloud software for your supply chain can address many of these daily challenges. The cloud can streamline many of your supply chain processes and provide other benefits like:
Reduced Costs
Managing a supply chain can be expensive, especially without a centralized system. The cloud is a more cost-effective solution than maintaining on-premises infrastructure. By implementing the cloud, you can eliminate hardware, IT infrastructure, and other upfront costs. You can also reduce existing costs by integrating applications and not having to pay separate management fees.
Cloud-based applications also have automated processes, meaning you'll spend less time managing applications and can save money in the long term.
Simplified Compliance
Cloud-based software can also assist with maintaining compliance standards. All supply chains are subject to compliance regulations from the government and other industry-specific regulations. If you fail to comply, production could be halted or disrupted.
The cloud stores data about compliance for various industries, making it simple to monitor how your products meet regulatory standards. With the cloud's help, you can reduce the time-consuming task of checking compliance standards for each industry. It can provide invoices and custody documents to help you keep track of standards for each item.
Improved Visibility
Cloud technology provides tracing capabilities, making it possible to track an item's progress as it moves through the supply chain. The tracing features can reduce lost items and ensure they arrive at their next destination safely. With the cloud, you can access an online platform that displays product movement. The interface is simple to use and makes tracking products much simpler. You can follow tracking numbers and use other tools to track a product's progress.
Streamlined Order Management
With cloud-based supply chain management software, you can enhance your order facilitation. Manually entering and tracking orders can get confusing. You might record an order incorrectly or get delivery instructions mixed up. The cloud manages and streamlines many order processes, from initial requests to final delivery. It uses automated pricing and tracks orders as they move through processing, which improves order cycle times.
The cloud can reduce order times and accuracy, raising customer satisfaction.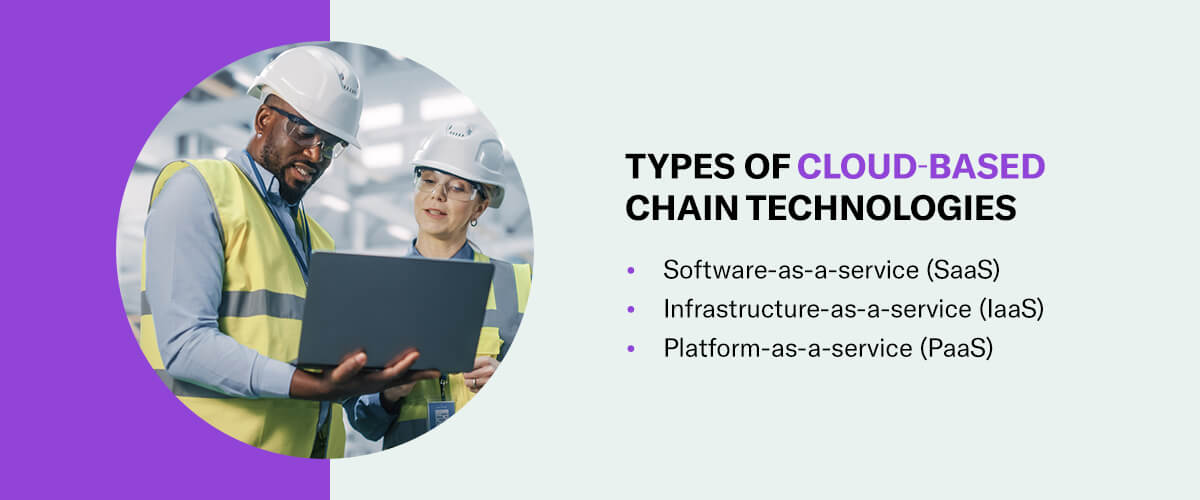 Types of Cloud-Based Chain Technologies
Companies and supply chain officials invest in many different forms of cloud technologies. These are the most common options for cloud-based software:
Software-as-a-service (SaaS): These are services supplied by a third party, consisting of web-based applications. The third-party supplier maintains and updates the applications, and you typically pay a monthly subscription fee. Supply chains commonly use SaaS for communication, such as an email server.

Infrastructure-as-a-service (IaaS): These cloud-based platforms focus more on data analytics and data management. They process new and existing orders and analyze supply. The networking technology can advise you on future purchasing behaviors.

Platform-as-a-service (PaaS): PaaS provides a comprehensive cloud platform. Using APIs, it combines existing applications and services into one system, simplifying supply chain processes. You can access current and previous order data in one accessible interface.
Would a Cloud-Based Supply Chain Benefit Your Business?
As you learn more about cloud-based supply technology, you might consider whether it would be a good fit for your business. If you're considering implementing new technology, it's always a good idea to think about factors like:
Existing systems: Whether hardware or software applications, you probably use some form of technology in your daily supply chain processes. As you consider a cloud-based tool, think about how your current systems suit you. If you need more efficient tools, cloud applications could help you improve productivity. You can also combine cloud systems with existing applications to create a comprehensive solution.

Current goals: Next, consider your current goals for the supply chain. If you have a particular strategy in mind, cloud software might be able to help you achieve it. For instance, if you want to reduce order processing time, cloud applications could help you streamline manual processes and increase efficiency.
Overall, cloud software can assist you with many supply chain processes. If you want to upgrade your existing systems, cloud software is an excellent option.
Cloud-Based Technology From Osa
Cloud-based supply chain solutions can transform your existing processes. From improved efficiency to higher customer satisfaction, cloud software can help you take your supply chain to the next level.
If you're seeking cloud technology, Osa is your solution. Our cloud-based Unified Commerce Platform is designed for simplifying supply chain processes. It connects your sales channels, warehouses, shipping partners, and more to create a comprehensive solution. We can increase product visibility as it moves through your network, making it easier to process orders.
The Osa Unified Commerce Platform includes:
Integration Manager Hub

Data Order Management Hub

Warehouse Management System Hub

Fulfillment Hub
To get started with Osa, let's talk today.