What Is Headless e-Commerce?

9 min read
January 27, 2023
Businesses around the globe use a wide range of e-commerce software to maintain their websites and applications. As customer demands continue to shift, businesses need to find ways to set themselves apart from competitors and boost satisfaction.
One notable trend in e-commerce is the adoption of headless platforms. Headless commerce platforms separate the front and back ends of websites, allowing you more control and freedom over the content you display.
Read on to learn more about headless e-commerce and how it can help your company.
Defining Headless e-Commerce
First things first, let's look at a headless commerce definition. Headless e-commerce architecture separates two essential components of an e-commerce application:
The front end: The front end of your website or application includes the visual elements of your webpage. In other words, it consists of everything from social media pages and graphics to the back button and content organization. Front-end developers are responsible for creating engaging user interfaces.

The back end: On the other hand, the back end is everything a user cannot see. It includes all of the systems, tools, and workflows that run in the background while someone interacts with a website or application. These tools might help with data storage, customer purchases, contact forms, or a variety of other features.
Separating these two functions can give retailers more control over design elements. You have more flexibility in building and enhancing your website. In turn, you can create more engaging customer experiences.
As your website or application develops, you can handle the front end and back end separately. The distinction makes it easier to process upgrades and tailor buyer experiences.
How Does Headless e-Commerce Work?
Headless e-commerce uses application program interfaces (APIs) to work. APIs allow two different software functions to communicate with one another. They connect the front and back ends of websites, sending information between the two in real-time.
For instance, back-end APIs receive input from users, like when someone clicks a link on a webpage. In response, the back-end API pulls the necessary data for this function and sends it to the front-end API. Then, the website displays the requested function, such as moving to the desired new page.
Instead of using the front-end and back-end together, you can use APIs to integrate tools and systems like:
Content management systems

Customer relation management

Digital experience platforms
Headless e-Commerce vs. Traditional e-Commerce
If you're still a little confused about how headless commerce is different from traditional e-commerce, let's take a closer look. The two differ in several important ways:
Front-end development capabilities: Headless e-commerce infrastructure gives you more control over front-end development than in a traditional set-up. In a traditional e-commerce design, the front-end and back-end connection make development more challenging. You need to edit the code and database structure on both ends of your website. On the other hand, headless e-commerce removes that connection. You only have to update your API or install a new one to make desired front-end changes. However, headless e-commerce requires you to assemble the front end from scratch instead of using a preset configuration.

Customization: The two also differ in customization capabilities. Traditional platforms usually have a predefined set-up for users. While this reduces the amount of set-up work you need, it also lessens your ability to personalize your webpage. Headless e-commerce users have to create the front end by themselves, but this allows them full customization capabilities. You can optimize your page for potential customers and adjust administrative interfaces as much as you want.

Flexibility levels: Lastly, headless e-commerce has more flexibility than traditional e-commerce structures. As your business offerings shift and more website upgrades become available, you'll likely want to alter your webpage. To make these edits on a traditional platform, you'd need to edit many layers of coding between the front and back ends. In contrast, you only have to alter your front end in a headless e-commerce design. The simplified structure allows you to make changes more quickly.



Benefits of Headless e-Commerce
Adopting a headless e-commerce structure can bring many benefits to your company's applications and websites.
Here are a few examples:
Enhanced accessibility: With headless e-commerce, you can improve accessibility for both administrators and users. Headless platforms are simple to use, allowing you and other employees to make changes easily. New employees can understand and update your website without advanced skills. You have more control over your website or application's structure, so you can create a user-friendly and accessible webpage.

Customer personalization: Headless e-commerce structures allow you total freedom of design. You can create a tailored webpage that displays your brand's values and themes. And, you can optimize your pages to meet customer preferences or enhance their user experience. With complete control over the front-end design, you can make these changes as often as you like.

More agility: A headless e-commerce platform can quicken loading times and the time it takes to display updates. You can work on customer-facing content independently, without having to synchronize with back-end developers. In turn, you can update your website more quickly. A headless structure might also help load pages more quickly. Faster loading times can improve user experience, making it more likely that customers will remain on your site.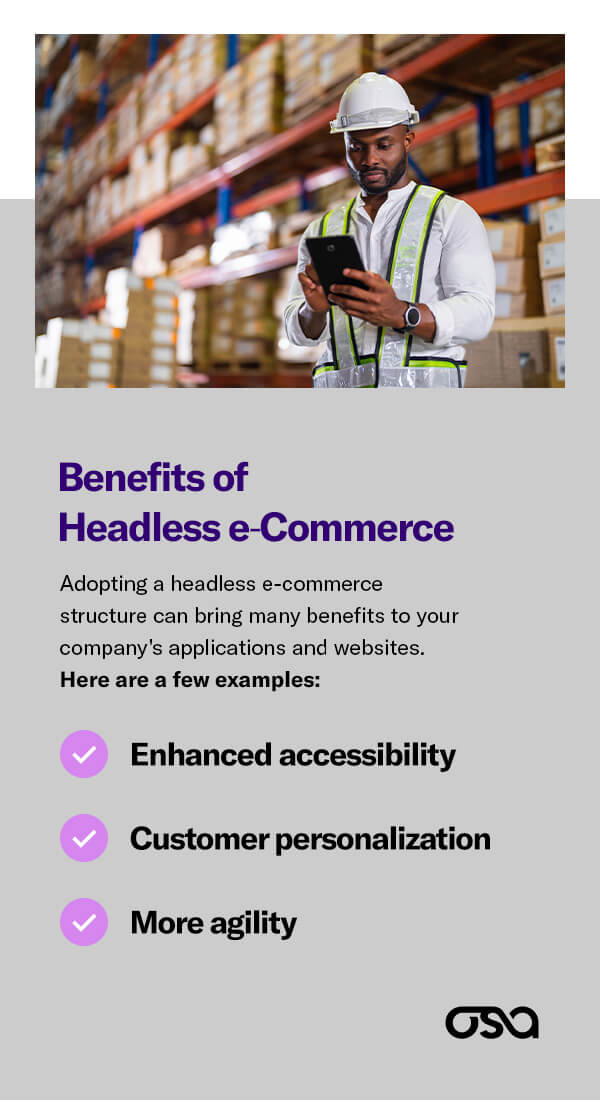 Are There Any Drawbacks of Headless e-Commerce?
Despite all of its benefits, there are a couple of disadvantages to headless e-commerce:
Ongoing costs: Headless platforms have ongoing costs that might outweigh the prices of traditional platforms. Because you build each component separately, you could get billed for each part. Your team will also be responsible for troubleshooting and problem resolution, which can lead to further costs.

Loss of some design structures: Most headless platforms do not have a front-end presentation layer for previewing a user's view. Without the ability to preview, company marketers might find it more challenging to approve or comment on developments.

Large team needed: If you want to handle the design components on your own, you will need a specialized and large team to meet all of the different requirements. Managing a big group might be challenging for smaller companies or those with fewer tech resources.
Is Headless e-Commerce Right for Your Brand?
Headless e-commerce is an excellent way to add more flexibility to your webpage. But, it's always good to think about your circumstances before diving in.
For instance, you can consider:
Your budget: It's important to keep a budget in mind as you explore options. Headless e-commerce expenses vary by company, so it's hard to pinpoint an exact overall cost. However, you should decide whether you have the resources for the investment.

Your usual design methods: Next, think about your typical website alteration patterns. Do you change content on your website often, or only once or twice a year? A headless e-commerce platform makes it easy to change and update your website, making it a great option for companies that update applications and web pages frequently.

Your IT support levels: Because headless e-commerce allows you to design your front end, you should have an internal team that can support these tasks. Consider your IT or coding teams and how prepared they are for the structure.

Your goals: Lastly, consider your organization's current goals and how headless e-commerce could support these. For instance, headless e-commerce is a great way to establish an omnichannel presence for your brand. If one of your goals is to reach more channels and expand your audience, headless e-commerce could be an excellent step.
While it might suit some better than others, headless e-commerce structures can provide a wide range of benefits to most companies. From easy customization to faster loading times, the platforms can boost your site's efficiency.
Use Cases for Headless e-Commerce
You can use headless e-commerce to meet a variety of business goals, including use cases like:
Fraud protection: Because they constantly strive to provide secure transactions for customers, e-commerce sites protect customers from fraud and stolen information, which is crucial for customer satisfaction and your brand reputation. With headless e-commerce structures, you can partner with a software-as-a-service (SaaS) provider that can manage all aspects of security. Your SaaS provider can handle compliance and security measures, allowing you and your IT teams to focus on higher-priority tasks.

Enhancing user experience: Increasing customer engagement is a significant goal for many companies, and headless e-commerce platforms can help. You can optimize your headless system to meet customer preferences and needs. The better experience they have on your website, the more likely they are to ask about services or purchase a product.

Integrating many channels: Headless e-commerce can deliver an enhanced customer experience across many channels. You can reach customers through your online store, mobile applications, or physical locations.
Examples of Headless e-Commerce Brands and Retailers
Many brands around the world use headless e-commerce to design their web pages and reach wider audiences. Here are a few notable examples:
Nike

Overstock

Redbox

Target
How to Get Started With Headless e-Commerce
If headless e-commerce sounds like a great fit for your organization, you might be wondering how to get started.
The first step for headless e-commerce is to decide how you want to handle front-end design. You can choose from multiple options, including:
Digital experience platform (DXP): DXPs offer an integrated management solution for your front-end design. This advanced solution can create a unified customer experience and high-quality design across your channels. To get started with a DXP, you can hire a service provider or work with your in-house technical team to build one.

Custom build: With this option, your in-house developers build your front end from scratch.
Next, you can select a headless content management system (CMS). This software allows you to create and modify content on your website. A headless CMS lets you modify and create content specific to each channel. You can either use an open-source CMS or invest in one with a SaaS service provider.
Lastly, you can link your CMS and APIs to form your desired front end. It's good to try small links at first, such as syncing to a blog post, before making big changes. If you partner with a SaaS provider, they can help you through this process.
Headless Supply Chain: Benefits and Use Cases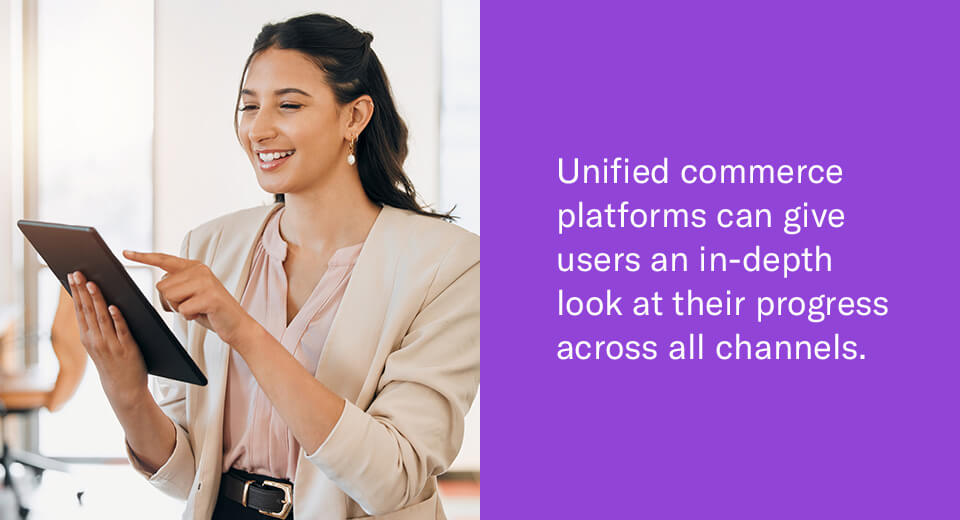 Headless technology and platforms are available for a wide range of applications, including the supply chain industry. Headless platforms can help supply chains adjust software at their own pace. Instead of partnering with different systems and legacy agreements, headless e-commerce empowers supply chains to update their platforms whenever they like.
Unified commerce platforms can give users an in-depth look at their progress across all channels. You can use data insights to optimize your performance and meet customer demands. And, headless order management systems allow you to view orders through every step of the supply chain.
You can use headless supply chain platforms to meet specific goals and use cases, such as:
Improved inventory management: Headless supply chain systems allow you to track inventory at the pace you want. You can view orders as they pass through the supply chain and access real-time updates in your supply. In turn, you can provide more accurate inventory updates for customers and suppliers.

Enhance efficiency and revenue: Headless software can streamline many supply chain processes and provide more detailed reports. You can use the advanced data to upgrade existing systems and boost efficiency.
Osa and Headless Supply Chain
Osa is a leading provider of e-commerce and supply chain software solutions. The Unified Commerce Platform can transform your existing supply chain systems, boosting productivity and helping you enhance your customer experiences. With the OSA AI-Powered Integrations Management Hub, you can connect your systems across all channels, from warehouses to shipping partners.
And, you can use the Osa Fulfillment Management Hub to create and scale 3PL partnerships at your preferred pace. All of these systems are headless, meaning that you can update and scale them as needed.
Our headless supply chain software features:
Integration Management Hub

Data Order Management Hub

Warehouse Management System Hub

Fulfillment Hub
Headless e-Commerce FAQs
To wrap up, let's look at some commonly asked questions about headless e-commerce to clear up any last-minute questions.
What is headless commerce? A headless e-commerce platform separates the front end and back end of your website and applications, offering you complete freedom over how you present content, products, and more.

What are the benefits of headless e-commerce platforms? Headless platforms can help you display content faster, enhance customer experiences, expand customization options, and increase accessibility.

How do I get started with a headless e-commerce platform? Once you decide a headless platform is right for your company, you can choose a headless content management system (CMS). Then, you link your existing APIs with the headless CMS to create your comprehensive solution.

How can Osa help? The

Osa Unified Commerce Platform allows you to access tools and partnerships that you can scale at your own pace. Our headless solutions can help you reduce costs, enhance customer experiences, and boost efficiency.
Transition to Headless e-Commerce and Supply Chain With Osa
Headless e-commerce platforms can help you meet a wide range of business goals. If you're ready to transition to a headless e-commerce and supply chain platform, choose Osa today. Our innovative technology and wide supply chain network can help transform your existing procedures.