What Are Common Supply Chain Technology Integrations?

5 min read
January 27, 2023
As your e-commerce business expands, you may want all the valuable help you can get. With so many options on the market, it can be difficult for many companies to determine what types of technology, software, applications, and integrations are suitable for their operations. Bringing new technology into your warehouse operation can be time-consuming and complex.
With supply chain integrations, you can make the most out of your existing technology and processes by incorporating all tasks and parties involved in delivering the final product to your customers into one unified system. With integration, you can coordinate your order management and fulfillment activities and enhance productivity while reducing delays and miscommunication. Let's discuss different types of integrations and how you can use them in your business.
What Are Integrations?
Supply chain technology integrations allow you to "merge" your multiple channels or platforms into a unified, cohesive system. Through integration, you can connect these third-party applications so they can share information and data.
Think of integrations as a Bluetooth connection or connector cable you might use to connect your laptop to your TV to watch your favorite shows. Software integration in your e-commerce business enables you to connect all your applications, APIs, data, and devices across your entire organization to be more efficient and productive.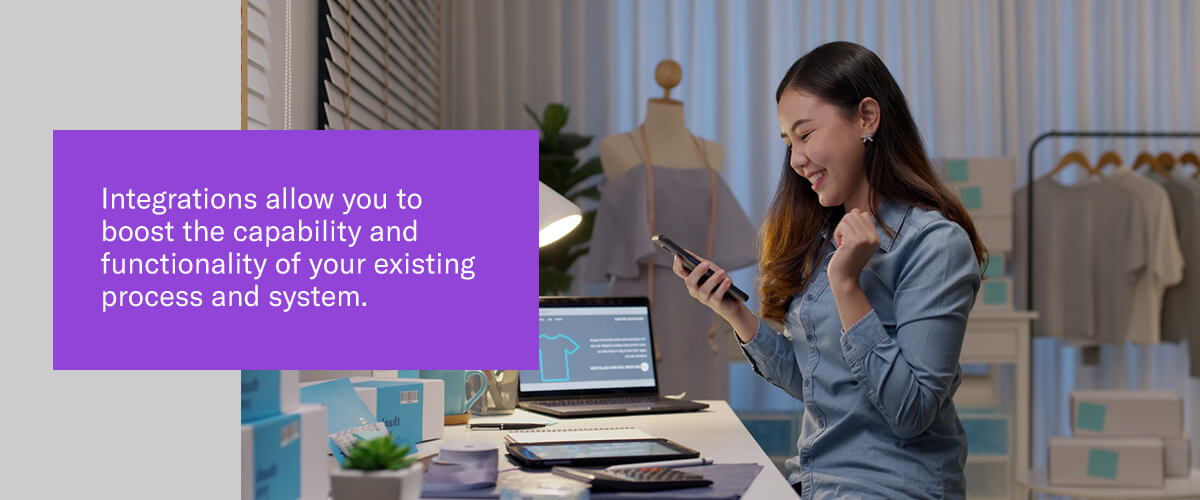 Why Are Integrations Important?
Integrations allow you to boost the capability and functionality of your existing process and system. By combining your separate applications into a condensed version, you can complete a wider range of tasks through automation and enhance your most critical business functions.
With so many technology solutions available to businesses, integrations allow you to streamline and centralize all of your information to receive better visibility and make informed decisions. Your customer service agents can more easily follow along their customer journey by having an improved view of all customer orders, interactions, and information.
EDI Integration
Many businesses can use electronic data interchange (EDI) integration technology for B2B transactions, improved visibility over partner transactions, and eliminated manual operations. Your company can create EDI integration by:
Establishing which documents, transactions, protocols, and endpoints you will use to exchange information with your business partner.

Converting EDI data that you can use with your existing technical environments, such as an accounting solution.
Using EDI integrations allows your business to improve speed, accuracy, and efficiency. From reducing order-to-shipment cycles to reducing human error to enabling you to spend more time focusing on your business.
API Integration
Application programming interfaces (API) integration is the connection between applications that allow systems to transfer data sources. API integrations power a variety of processes throughout many sectors of an organization to enhance productivity, keep data in sync, and drive revenue.
Web stores, such as e-commerce sites, primarily use API integrations in combination with their order management systems (OMS) for seamless operation. To process orders and shipping tasks within this system, they need API integration so they can access their databases and servers for customer, product, and inventory information.
Shopping Cart Integration
Shopping cart integration provides e-commerce businesses with the tools they need to improve their entire order fulfillment process. There are many steps companies must control and oversee between purchase and delivery, from the moment a customer buys something online to when it arrives at their door. Shopping cart integration means combining your software, including tracking software, accounting software, and warehouse management software so it integrates.
Through this integration, you can use data from your shopping cart to quickly and efficiently complete orders. For instance, once a customer makes a purchase, the order would be sent directly to your WMS or third-party logistics (3PL) system to fulfill the order. Then, the billing information would be sent to your accounting software for processing. Finally, the customer's order will be sent to your tracking software so you and your customers can track the order as soon as possible, helping to improve customer satisfaction.
Marketplace Integration
Marketplace integration helps e-Commerce businesses connect their software with any marketplace and access data from e-stores within them. These marketplaces might include companies such as Amazon, eBay, Shopify, Walmart, Target, and Costco. Without this type of integration, many services cannot work with retailers' stores and perform their most essential functions, such as:
Order and inventory management

Shipping management

Marketing automation

WMS

Enterprise resource planning (ERP)

Repricing software
Integration software allows companies to connect to various marketplaces so that they can retrieve, add, sync, and delete data on their products, orders, customer information, and shipments. Ultimately, this helps e-commerce owners automate and organize their online retail businesses by making it easier to manage inventory, shipping, and other critical processes.
Carrier Integration
Carrier integrations allow businesses to have more control of their orders after they dispatch, particularly if they use multiple carriers and manually input data into each system. This type of integration can streamline the dispatch, shipping data, and fulfillment side of your business to maintain customer satisfaction.
For example, you can integrate your WMS or ERP systems directly with your preferred carriers to increase communication between these channels. Additionally, carrier integrations allow teams to request shipping information, fulfill tasks, and manage shipping labels and tracking numbers.
Factors to Consider Before Choosing Integration Software
You may be familiar with integrations and how important they can be to e-commerce businesses, but how do you know how to choose the right one? Here are some elements of integration software you'll want to consider:
Your business needs: Define your fundamentals. What does your business software lack that integration could take to the next level? Determine how your organization can improve ordering, shipping, tracking, and everything in between, and choose a software that ticks these boxes.

Scalability: How many integrations does each company offer? Which ones can you get the most use out of? Unifying your sales channels and optimizing your fulfillment and shipping with the right platform can allow you to focus on scalable growth.

The company behind the software: Whether your integration software is on-premises or cloud-based, you want to ensure you choose a reputable, trustworthy company that has your best interest in mind, from dealing with individual orders to supporting you throughout your entire supply chain.

Overall impact: Consider how your business might improve with integration software. As streamlined management systems allow you and your team to spend less time on manual tasks, you can focus more on business priorities, developing superior products, and delivering exceptional customer service.
What Integrations Does Osa Offer?
With Osa, you can seamlessly integrate with over 100 channels, in addition to our open API, including:
e-commerce platforms

3PL fulfillment centers

Marketplaces

Shipping carriers
Whether you sell through one store or run your business across multiple channels, our unified commerce platform has the technology integration you need to increase productivity and efficiency. At Osa, we make it easy to integrate seamlessly with our partner ecosystem and all major e-commerce platforms and systems, including:
Amazon

Walmart

TradeGecko

Magneto

Shopify

BigCommerce

ERP, WMS, OMS, PIM, IMS
Whatever services you use to manage your order fulfillment and supply chan processes, Osa helps you handle integrations and combine them into one cloud-based platform. With all your tools, information, and data in one secure location, you can access them from anywhere to make your teams' and customers' lives easy.
Choose Osa Supply Chain Technology
As you manage day-to-day operations for your e-commerce business, you need the most effective solutions to help you achieve higher efficiency and productivity levels. There are countless tasks and responsibilities you must handle to keep your business running and ensure customers are happy. At Osa, we want to help our customers enhance their communication and visibility by optimizing every part of the supply chain.
Whether you want to increase your customer satisfaction rating, grow your business, or simply reduce your manual tasks with automation to make life easier, our seamless integrations management solutions are right for you. To learn more about our cloud-based, accessible, and intuitive integrations, contact us today.