Your Guide to Supply Chain Technology

5 min read
January 27, 2023
The supply chain securely distributes supplies and products to consumers around the world. As we face modern challenges, supply chain managers constantly adjust to meet new demands and structures. One way to improve supply chain management and ensure the smooth movement of products is with technology.
Supply chain technology can improve efficiency and streamline processes in the supply chain. Supply technology can take many forms, from artificial intelligence (AI) to data management software and sales projections. The electronic components help supply chains overcome modern challenges and stay on track.
Read on for more information about technology in the supply chain.
Common Problems in Supply Chain Management
Supply chain management relies on efficient planning and innovation. But distribution centers, e-commerce sites, and other suppliers can face a variety of challenges during supply chain processes. These problems make it difficult to meet customer and supplier demands throughout the network.
These are some frequent issues in supply chain management:
Changes in consumer demand: The COVID-19 pandemic prompted

a surge in online shopping

and changed many consumer buying habits. Customers might prefer different brands, seek faster shipping times, or buy more or fewer products than before the pandemic. These alterations strain supply chains and make it more challenging to meet demands sufficiently.

Delays: The supply chain also faces unexpected delays due to staff shortages or out-of-stock materials. Delays can halt movement in every supply chain area, from production to distribution.

Multiple channels: E-commerce offers many buying channels for customers. The supply chain has to adapt to each channel by working out distribution logistics, compliance regulations, and inventory management.
Examples like these can slow supply chain procedures, making supply chain management more challenging.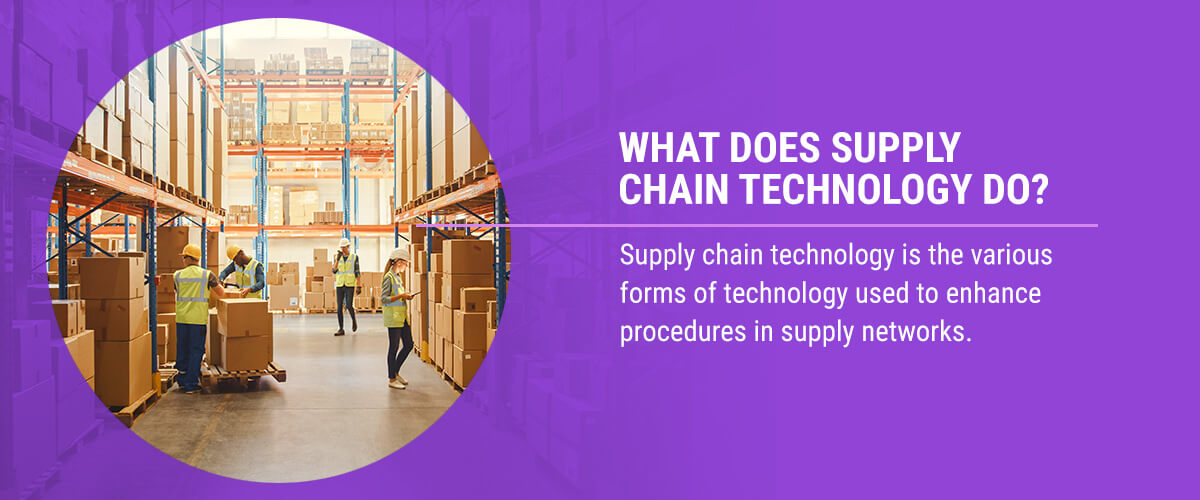 What Does Supply Chain Technology Do?
Supply chain managers and officials use innovative techniques to adapt to current supply chain issues. Supply chain technology is the various forms of technology used to enhance procedures in supply networks. For instance, a supply chain software platform could help you track goods as they move through the chain, from raw materials to a final product arriving on a customer's doorstep.
Many officials use a combination of technology types to manage their supply chain. Using the tech can improve production times, enhance communication procedures, and increase customer satisfaction.
Types of Supply Chain Technology
Supply chain technology is available in many types, such as:
Artificial Intelligence (AI)
Global supply chains use AI in a variety of processes, from packing orders to providing training. These technologies can complete routine, time-consuming tasks, letting supply chain employees focus on other duties instead.
AI uses algorithms to detect patterns or gaps in current supply chain standings. Many types can work without human interference, improving efficiency throughout warehouses and distribution centers. Using AI for automated processes, such as packing customer orders, reduces the opportunity for human error.
Warehouse Management Software
Inventory accuracy is crucial for a well-maintained supply chain. Precise inventory data can quicken warehouse processes and improve customer satisfaction. To keep track of inventory levels, many supply chains use warehouse management software. These platforms allow you to track all warehouse operations, from organizing orders to creating packing labels. Having all your warehouse data in one application makes monitoring easier.
Automated Identification
Another type of supply chain technology focuses on product identification. Supply chains use various methods to differentiate products, such as barcodes and SKU numbers. Advanced identification technology can enhance identification methods. When you scan a barcode, the technology provides detailed records of the product's history and upcoming movements.
Automated identification makes it easier to group products together. In turn, warehouse workers can access products more quickly and streamline distribution.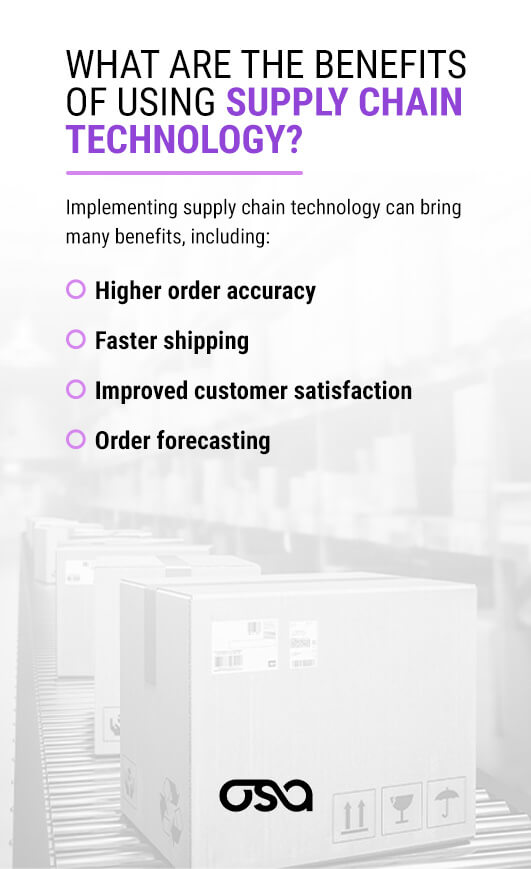 What Are the Benefits of Using Supply Chain Technology?
Implementing supply chain technology can bring many benefits, including:
Higher order accuracy: The various technology types can organize your products, provide instant item details, and even automate shipping processes. You can eliminate time-consuming, manual tasks and the potential for human error.

Faster shipping: With supply chain technology, you can minimize production halts and improve efficiency. Automated processes and real-time data tracking allow goods to move quickly through the chain.

Improved customer satisfaction: The faster customers receive their products, the happier they will be. An efficient supply chain can increase customer loyalty and drive more revenue for various businesses.

Order forecasting: Supply chain technology can also assist with order projections. It uses current data and tracks customer behavior to predict upcoming sales trends. In turn, you can make more educated buying decisions and update stock accordingly.
Do You Need Supply Chain Technology?
If you haven't integrated technology into your supply chain yet, you might be considering whether you should get started. While technology isn't an absolute requirement for managing a supply chain, the platforms can benefit you in many ways. Supply chain managers constantly strive to improve performance, and supply chain technology can help you improve productivity while also reducing workloads.
Many technology platforms allow you to test the tech during a free trial. You could use these options to try the software and see how it helps your network, then decide if you want to commit fully.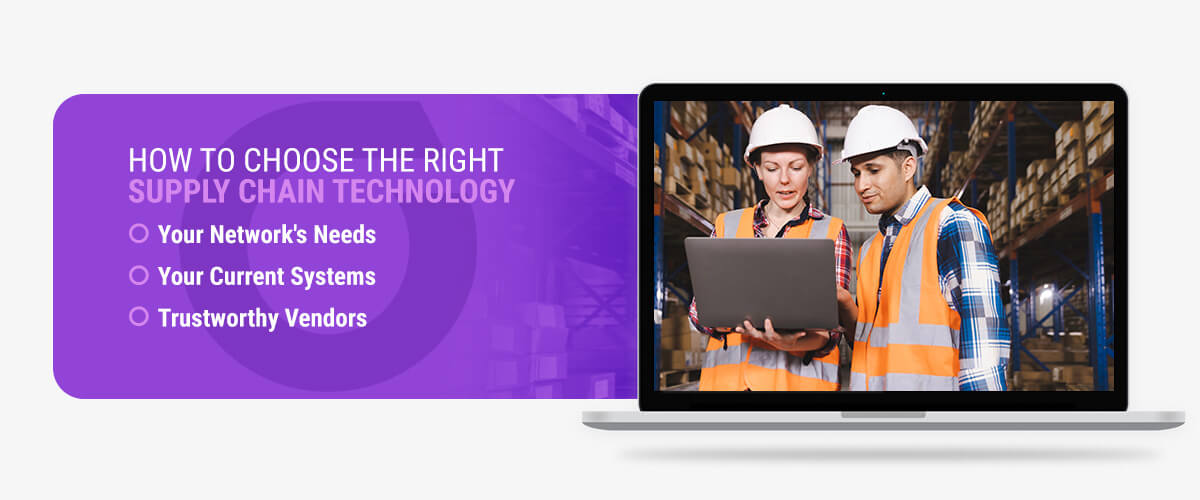 How to Choose the Right Supply Chain Technology
Taking the first step into supply chain technology can seem overwhelming. With so many technology types available, choosing the best platform for your network might be challenging.
When deciding between supply chain technologies, consider these factors:
Your Network's Needs
To decide on a technology type, you should think about your supply chain's needs first. Is there a particular area you need support in or want to improve? For example, if your packing productivity is low, you might consider investing in technology that specializes in packing efficiency. You can also consider your ultimate goals for your network and search for the technology option that would help you achieve that goal.
Your Current Systems
Next, consider the current technology you use in your supply chain. From computer software to physical tools like barcode scanners, these can all affect the new technology you choose. You want to ensure your current systems are compatible with the new technology unless you want an entirely new system.
Trustworthy Vendors
Your technology provider is important for your integration. They help you set up your new technological systems and answer any questions you might have along the way. With so many providers available, it can be tricky to sort through them all. Look for options with high customer ratings and enthusiastic customer service. Complete thorough research about your options and ask others for input before making the final decision.
Choose Osa for Your Supply Chain Technology
Supply chain technology is crucial for success. If you're seeking a supply chain tech supplier, consider Osa today. Our high-quality technological capabilities can take your supply chain to the next level. As a leader in supply chain technology, we understand your challenges and work with you to create specialized technological solutions.
We offer a wide range of supply chain technology options, including:
All of our software can help you improve efficiency and increase visibility across the supply chain.
To get started with Osa, contact us today.