2023 Supply Chain Predictions
Future Proofing the Product Journey
For Retailers, Brands, 3PLs, and 4PLs
Introduction
Future Proofing the Product Journey
What does the future hold for supply chains?
As brands, retailers, and logistics providers strategize for 2023 and beyond, the current reality is that many companies are still plagued by disruptions in a post-pandemic era— and the idea of what "normal" is for the supply chain is still evolving.
Pressure to recalibrate priorities, improve technologies, and optimize throughput continue to be priorities. Yet, lingering issues with labor, infrastructure, commodity shortages, or lack of available real estate continue to plague many supply chain businesses as they look to modernize the product journey. The truth is that brands, retailers, and the 3PLs and 4PLs who support them, cannot put off change any longer. Today's businesses must build resilient networks, utilize better technology, and, more importantly, adapt or fail.
But what exactly does a modern and agile supply chain look like for companies who want to accommodate new ecommerce and omnichannel strategies in a vulnerable and fragile marketplace?
To achieve success, be strong competitors, and meet revenue expectations, here are Osa Commerce's top supply chain predictions for 2023.
Section 1
Labor Constraints and Reskilling
The impacts of a global pandemic continue to bring challenges for many businesses—especially those tracking consumer buying habits. This can be especially difficult as hybrid shopping, a blend of physical and digital shopping, is more commonplace. According to a global survey of more than 19,000 respondents, 27% of all consumers and 36% of Gen Z buyers are hybrid shoppers. Of those surveyed, 40% responded that hybrid shopping is their primary buying method leaving many retailers and brands searching for ways to meet their evolving needs.
3PLs and other logistics partners continue to struggle to keep up with demands for affordable transportation, reliable on-time pick-up and last mile delivery, and to implement the latest technologies to promote greater visibility for their brand and retailer customers.
As the number of digital buyers continues to rise, with an expected 285 million online buyers by 2025, brands and retailers are looking for ways to embrace a changing marketplace and deliver the ultimate omnichannel experience. Without a way to make enhancements to meet demands, the risk of delays, delivery failures, or the arrival of manufactured goods are just the beginning.
So, how can businesses navigate continuing issues and keep up with demand?
Get the full report for more predictions around labor and reskilling including:
Labor Issues Continue

Reskilling a Workforce

Top Labor Predictions
Section 2
Prioritization of Inventory Management
Inventory is the bread and butter of the supply chain and is often mentioned as an area for improvement. Even so, many supply chain businesses still do not have plans to invest in new technology to improve the inventory management journey. Here therein lies the problem.
Since inventory management is integral to the success of supply chains, why are so many businesses not investing in new technology? This is especially true for 3PLs who require integrations with many systems. Alternatively, we should also be asking why aren't brands and retailers looking to implement their own supply chain management technologies to manage inventory, orders, or integrate with their suppliers or partner systems.
Disruptions in the supply chain are predicted to continue, so whether you are a brand, retailer, 3PL or 4PL, now is the best time to ensure outdated inventory management technology, or lack thereof, isn't a reason for your business to fail.
Here are Osa's predictions for how to prioritize inventory management.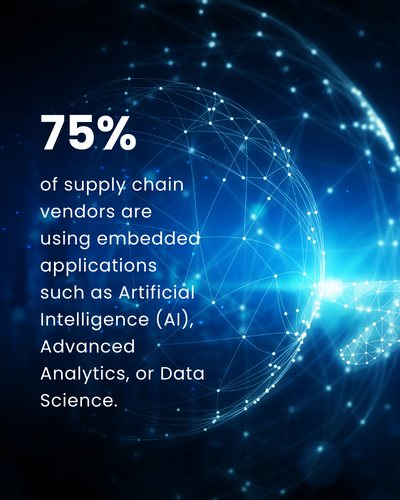 Want to ensure outdated inventory technology isn't going to disrupt your business?
Get the full report to learn more about:
Legacy Systems = Relic Tech
Vendor Managed Inventory
Top Inventory Predictions
Section 3
Collaborative Visibility
Unified commerce platforms offering the ability to easily integrate with other systems, especially for optimizing returns, are the future of supply chain management.
As mentioned above, the benefits of better supply chain management technology are necessary in today's saturated marketplace. That said, many brands and retailers are developing their own supply chains to minimize disruptions, optimize the product journey, and develop shipping resiliency.
Nike is a good example of this transformation. They are focused on using automation and technology, specifically AI, to fuel growth and transform the way they serve their customers— paving the way for how other brands can improve operations with a digital-first supply chain. Regional distribution networks supported by advanced demand-sending and inventory optimization technology platforms help Nike predict, plan, and shape one-to-one consumer demand.
Here are Osa's predictions around collaborative supply chain visibility using data.
"The challenges and constraints imposed by the pandemic have driven our teams to transform how we serve consumers through the implementation of new technology platforms, automation and process improvement in our operations."
--Andrew Campion, COO, Nike
Conclusion
The Supply Chain is Complicated
Layer in challenges facing many retail and brands such as issues with manufacturing, truck driver shortages, or jammed ports and the supply chain goes from difficult to disruptive. This has been exacerbated by already lean or just-in-time supply chain, a popular approach for businesses looking to invest in other areas.
In addition, 3PLs and logistics partners are still trying to meet e-commerce demand for their customers with outdated technology and labor issues on the rise
As 2023 continues to change the landscape of the supply chain, businesses must look to the ultimate customer experience in order to be successful.
This is largely dependent on a successful digital supply chain ecosystem that includes integrated technologies, strong partnerships, and the ability to track the entire product journey so you are one step ahead.